Prof. Shaban Ramadan Harb
Professor of radiation physics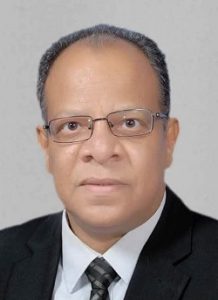 The science of physics is the basis for many of other sciences such as engineering, medicine, astronomy, meteorology, and interested in studying the smallest things (atoms), and up to the largest universe created by God. The Department of Physics has been established in 1973 and shared in the development of scientific and cultural movement of Qena branch of Assiut University and after that in South Valley University through many of the graduates in various fields besides to many researches in the field of atmospheric physics, radiological physics, solid state physics,thin films physics, crystal groth, semiconductor physics and theoretical physics.
The stUdent section laboratories are divided into:
1- First class Lab.
2- Second class Lab.
3- Radiological and nuclear physics laboratory
4- Solid state physics laboratory.
5- Digital and Electronic Physics Laboratory.
In addition to the sector of the students there are research lab's covering the following areas:
1 – Environmental Radioactivity Measurements Laboratory (ERML)
2 – Atmospheric physics research laboratory and the environment.
3 – Physics Laboratory Research of crystal groth.
4 – Semiconductor research laboratory.
5 – Theoretical physics laboratory.
6 – Thin-film physics laboratory.
7 – Ferroelectric materials physics laboratory.
High qualified staff members are already included.